GOLF
Golf is a game in which the players stroll (or ride in carts) about a course featuring 9 or 18 fairways, constantly proving themselves inferior to the guys who play before the Golf Channel's cameras on postcard scenic courses in Scotland or Wales or some other very green place. The term golf "links", by the way, comes from the first courses laid out in Scotland on "links land" or sandy soil just inland from the ocean. Scotland, the birthplace of golf, still holds the distinction of having the most courses per capita of anyplace in the world, followed by New Zealand and Australia. The U.S. comes in 8th. Professional golf had, of course, the good fortune of riding the meteoric career of Tiger Woods and, following Tiger's dramatic fall from grace, began searching for its next star. That would be, by all appearances, Jordan Spieth.
Jordan Spieth wins the 79th Masters
The golf world has a new "most exciting player". A young Texan who would have been back in the lone-star state at the University of Texas at Austin except for one minor detail, he was winning the Masters by four strokes with an 18 under par 270. Spieth, who led the field wire-to-wire, came within a whisper of setting an all-time Masters record at 19 under when he missed a putt on the final hole. Justin Rose, likewise, missed a chance to stand alone in second place when he missed a putt on the final hole, dropping him into a shared second place finish with Phil Mickelson, each 4 strokes back. Tiger Woods, who set the same course in Augusta ablaze 18 years prior with his 1997 win, finished deep in the field at the 79th Masters at 5 under.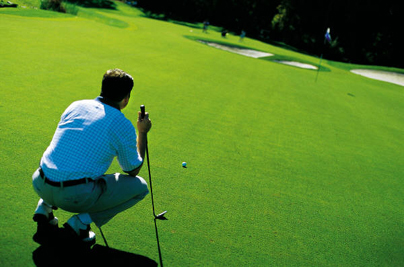 The U.S. Open ...

There is a children's story in which, in the end, a tiger is vanquished and becomes only a distant memory. The same thing happened at the 111th U.S. Open when the most likely successor to Tiger (Woods) coasted to a 16 under victory, 8 strokes better than his closest competition. Rory McIlroy "is going to rule the game," said one of his competitors. At one point, Rory McIlroy from Northern Ireland was 17 under. McIlroy had pulled the plug on his "tweets" during the Open, but in the end he couldn't stop himself from taking the cell-phone photo (below) of the prize with no Tiger in sight.

Home